H.A.W.K. Motion Control System is a software system for integrated management and creation of movement scenarios (projects for management) of a robotized movie manipulator (movie crane) for shooting 3D puppet animated films.

H.A.W.K. is an abbreviation for Hyper Accelerating Work Kit. The idea for this name has appeared during the development process and it was chosen because its best response to the ideology of the system.

The communication between H.A.W.K. and the movie manipulator is realized via the RS422 protocol using the serial port of the computer. However the communication scheme can be adapted to use standard USB interface.

The architecture of the H.A.W.K. system allows its adaptation to control different movie cranes, and this do not depends on the used crane model, motors controllers, type and number of the crane axises (degrees of freedom).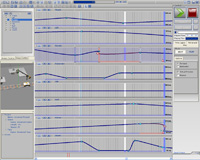 H.A.W.K. Motion Control System
H.A.W.K. works under Windows XP operating system and has Easy-To-Use and Easy-To-Learn user interface, which provides the ability for fast motion schemes generation of the particular manipulator axises.

H.A.W.K. can import data from files with VRML (Virtual Reality Modelling Language) format. The import process is managed by the Importing Wizard, which reduce the user work and the possibility of human mistakes to the minimum.

Because of the ability of the system to represent the behaviour of the robotised manipulator in virtual 3D mode, the system has an own Environment Editor for 3D schemes and models. The editor's interface is similar to the interface in basics to the 3D Studio Max.

The design and definition of curved interpolations between key frames of the motion schames is intuitively represented to the users and it is reduced to work with Bezie Splines (BSplines) called MultyCurves or MultySegments.

A Template Editor for templated motions is built up and because of it the system, allows to be designed and reused some of the typical motion schemes.

The creation of new projects is facilitated by the New Project Wizard, which helps to user to define the initial required parameters of the new project.

During the design process the Information Panel and Preview Panel assistants help to user. The first of them visualizes information which can be proved necessary in the design process, and the second one shows what is the position of the manipulator in the space or what its camera "sees" during the motion.